Send Flowers to Mumbai - Online Flower Delivery by Phoolwala
Send Flowers to Mumbai Navi Mumbai, Mumbai the financial capital of India is known for a variety of reasons. This city can be easily referred to as the city of superlatives, a megacity in its truest sense. Mumbai always manages to stay right at the forefront in the collective mind of media and the media reporting has helped people to understand the city. The city has a charisma that attracts millions of people to come and make it their "Karma" capital. This is the place where their dreams are fulfilled and they can look forward to a bright future. People settle in Mumbai for a variety of reasons, like studies and employment, which are the most common reasons. When shifting base to this city, they have to leave their friends and relatives behind. Though, this is quite difficult, but necessary for personal development.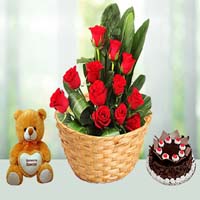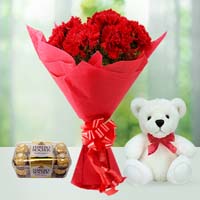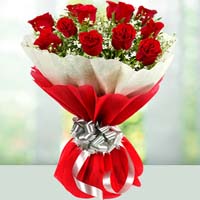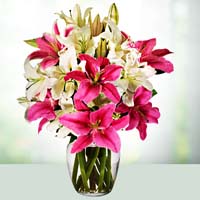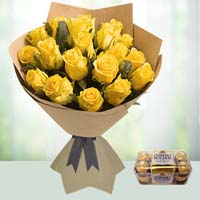 Whenever any occasion or an important day comes, the memories of loved ones depress people to no end. They strongly wish to be with their family or friends on this day, but various reasons stop them to visit their loved ones. But, today, with advancements in technology, staying in touch with near and dear ones is not difficult. With the advent of the Internet, many online florists have come up that promises to carry your sentiments and feelings to your loved ones. There are many occasions in the lives of people when they miss their loved ones too much. It can birthdays, anniversaries, promotions, graduation, festivals or any other special occasion. In order to ensure that on any of these special days, you are not left alone, the online platform like Phoolwala.com offers high end Flowers and Gifts Delivery to Mumbai. The company is a leading online florist company in India that understand its responsibility in the utmost manner. The concept of expressions has been given a new meaning by Phoolwala.com. The services offered by the company are synonymous to love, sympathy, celebrations and emotions. Thus, today when people wish to enjoy a glorious affair, they will never feel alone or left out due to the physical absence of their loved ones, because the service provider offers a wide range of quality products and services to the end customers.
Online Flower Delivery in Mumbai and Navi Mumbai

When a person visits the site, there are end number of options available on their webpages. There are several categories where Send Flowers online to Mumbai, gifts for her, gifts for him, flowers, cakes, etc from where the visitor can choose an appropriate gift and add it to his cart. Once the shopping is complete, the visitor can move to the payment gateway that is totally safe and secure. The visitor can choose any payment option that he finds suitable and make payments. As soon as this is done, the next step is to share delivery details like day and time of the delivery, address of the receiver and any message that the sender would like to send. The entire process has become so much simple and convenient. Now, no one needs to enjoy a significant day of his or her life without the best wishes of the loved ones.

Mumbai Flower Delivery in all over Mumbai and Navi Mumbai Locations:
Phoolwala also send flowers to Delhi, Flowers to Bangalore, Pune, Kolkata and all India cities.
FAQ (Frequently Asked Questions) about send flowers to Mumbai
You may be having lot of questions to know its answers before placing orders online flower delivery in Mumbai. Please find the FAQ for flowers delivery in Mumbai:
1. How to Send Flowers to Mumbai and Navi Mumbai with Phoolwala?
You can log on to Phoolwala.com website and browse categories and products to choose and place order online.
2. Can I place offline order for flowers delivery in Mumbai with Phoolwala?
Yes you can also place order offline by call or email. You can call or whatspp +91-9873356937 to place order for flowers delivery in Mumbai
3. What is the Delivery Time for Flower Delivery in Mumbai Navi Mumbai by Phoolwala?
Our standard delivery timings are between 9:00 A.M. to 7:00 P.M and time commitment may not be possible. Fixed time flower delivery in Mumbai may be available with extra cost and one day advance order
4. What are the locations covered by Phoolwala for flowers delivery in Mumbai?
Phoolwala send flowers to all over Mumbai and covers all locations of the main city. If any location is far from the main city that may be arranged with extra cost and time.
5. What are the birthday flowers bouquets offered by Phoolwala for Mumbai delivery?
You can order flowers bouquets and basket arrangements for roses, gerberas, carnations, lilies, bird of paradise, orchids etc.
6. Can I send online cake and flowers for birthday in Mumbai with Phoolwala?
Yes you can order flowers with cake for Mumbai delivery for birthday. Also you can send flowers with sweets, chocolates, teddy bears to Mumbai.
7. What are the occasions served by Phoolwalafor online flower delivery in Mumbai?
You can send flowers for birthday in Mumbai, anniversary flowers for Mumbai, get-well soon flowers, love romance flowers , festivals gifts for Mumbai, like Valentine's Day, mother's day, father's day etc and funeral flowers delivery in Mumbai by Phoolwala.
8. How Phoolwala is best for online flower delivery in Mumbai?
Phoolwala have more than 10 years of trusted experience in flower delivery in Mumbai and across India & international. Phoolwala provide best customer support always.
9. What is the payment options provided by Phoolwala to order flowers for Mumbai Online?
You can make payment online by using credit card, debit card, net banking, paytm, wallets, bank transfer and deposit cash in company bank account for Mumbai flowers delivery.
10. How Phoolwala update Mumbai flower delivery confirmation after delivery
After flowers bouquet delivery in Mumbai, you will get automated delivery confirmation by mail and SMS also. It is updated by process team of Phoolwala. If any delay in update, you may call or whatspp Phoolwala support team at 9873356937.
11. What types of flowers delivery in Mumbai offered by Phoolwala?
Phoolwala offers same day flowers delivery in Mumbai, Midnight Flowers Delivery in Mumbai, and Fixed Time Flowers Delivery in Mumbai.
12. . What is the guarantee by Phoolwala for flower gifts delivery in Mumbai?
Phoolwala guarantee you for the flowers delivery in Mumbai on the given date, in case it's not delivered it will be 100% refunded or you may choose alternately date in future.
13. How to Customize or Personalize Flower Gift for Mumbai Delivery?
You can customize and personalized you flower bouquet delivery in Mumbai by writing your personal message in card and deliver along with flower bouquet for Mumbai delivery

14. How Phoolwala is the best florist in Mumbai for flower delivery?
See answer no. 8
15. What are the best websites in India to Send Flowers to Mumbai?
Phoolwala.com is the best website for online flower delivery in Mumbai India. There are other websites also in internet that offers online flower gifts delivery in Mumbai.
16. How to Contact Local Florist or Flower Shop Near Me in Mumbai For Flower Delivery?
Answer: Phoolwala Network Mumbai Florist Address: Shop no-3, Azad Road, Near MILTON APARTMENTS, Juhu Koliwada, Santacruz (west), Mumbai-400049